PerformanceBox is a GPS based performance meter that allows you to measure G-forces, speed, lap & split times, 0-60, 0-100, braking distance and many more.
The new Predictive Lap Timing function (live comparison to best lap) gives you instant feedback on your driving and helps you to find valuable improvements in your times.
All parameters are logged to an SD memory card ten times per second for later review and comparison.
PerformanceBox contains an integrated antenna, is compact in size and very easy to install.
Available in three different packages.


Features
Performance meter, lap timer, data logger and power calculator in one box
Accurate GPS logging at 10Hz
Backlit graphic LCD display
Choose between 6 different screens

Logs directly to SD card
Rugged plastic enclosure
Predictive Lap Timing
Inbuilt GPS antenna
Easy to use
Modes
Acceleration: 0-60, 0-100 / displays: Time, g-force
Braking: 60-0, 100-0 / displays: Time, distance, g-force
Distance: 60', ¼mi, ½mi, 1mi / displays: Time, trap speed
Live G-Meter: Accel, Decel, cornering g-forces, with max G

Lap Time: Displays current lap, last lap, best lap
Split Times: Dislays split time or speed at a split point
Virtual Start/Finish/Split Lines: Using GPS, there is no need for an external beacon or transmitter. Split lines can be easily saved and transferred.

Wheel HP Calculation: Enter your vehicle's weight and run an acceleration to estimate wheel horsepower.
Flywheel HP Calculation: Perform a coast-down test to measure drag, and the PerformanceBox will calculate HP at the flywheel.
Speed: PerformanceBox also works as a highly accurate digital speedometer with compass, a handy feature for street driving.
Accurate GPS speed can be used to calibrate a vehicle's speed readout.
Predictive mode enables you to graphically view your predicted lap time.
Predictive lap timing works by saving your position around a circuit, every second. If the current lap is the fastest so far, then this positional data is saved as a reference.
This screen provides the ability to configure the input channels of a connected Micro Input Module and view the data on each of the input module channels.
A Micro Input Module allows 4 analogue and 1 digital (RPM) inputs.
Predictive Lap Timing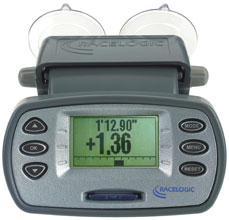 Instant driver feedback
Predictive Lap Timing gives you an invaluable insight into how your current lap time compares with your fastest lap time.

To achieve our unrivalled accuracy, we compare two different laps using GPS position rather than distance, 10 times a second. This means our lap time stays accurate, even if yiou take a different line each lap.

Read more about how it works.



Circuit Tools Analysis Software
Circuit Tools software is a data analysis package that comes with Video VBOX, VBOX Sport, DriftBox and PerformanceBox.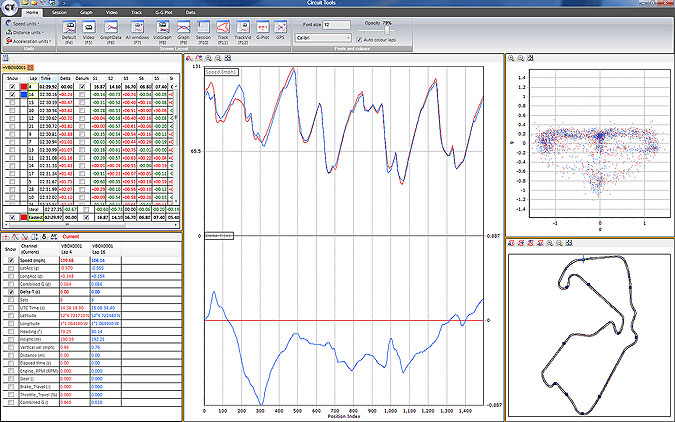 The software is designed by racing drivers, for racing drivers, with none of the complexity normally associated with analysis software.
Easy to use
To analyse your track data, simply insert the SD card with your recorded data into your PC and select a file.
Huge track database
The software automatically detects the country, circuit and track configuration from a database of 400 circuits and uses the start/finish line information to separate the laps contained in your recorded file.
The fastest lap from your latest session is automatically chosen and displayed on the graph window. You can compare runs from this session, or from previous ones simply by clicking on the relevant lap time shown in the session window.
Lap time difference channel

Time difference or 'Delta-T' is a very useful channel that shows the lap time difference between two different laps.
More about Circuit Tools Driver Analysis Software.
Performance Tools
This software allows you to analyse your vehicle's performance in a range of acceleration and braking tests.

To use the data logging, simply insert the 64MB SD card (which gives up to 53 hours of logging) and drive. Once you have finished the test, either plug the Performance Box into a PC via the USB cable provided, or remove the SD card and place it in a suitable reader.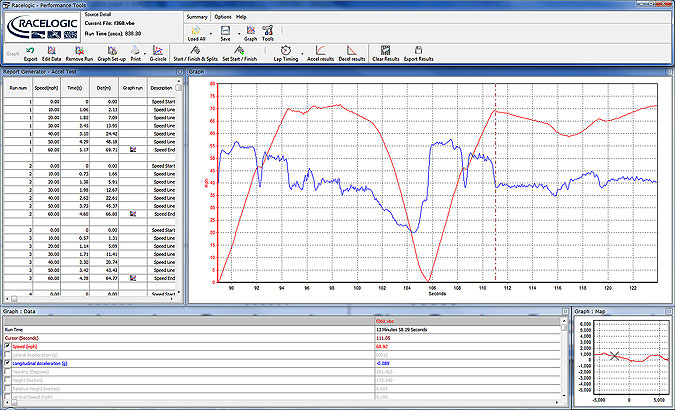 The data is then read into the Performance Tools software, which is installed from the CD supplied.

This software allows graphical analysis of acceleration, braking, cornering and lap times. You can overlay up to four files, and you get an accurate track map to compare your driving line between different laps.

| | |
| --- | --- |
| Formula One Car vs. Ferrari 430 | Circuit Lap Comparison |
| Nurburgring Circuit Overlay | Nurburgring Circuit Overlay |
Add-On Products
GPS Antenna

Magentic patch antenna with 3M-MCX connector, requires a ground plane.

In-car power supply

For connection to in-car 12v auxillary socket. 2m length.

Windscreen mount

Windscreen mounting cradle including suction cups.

Micro Input Module

The module allows you to record one frequency (RPM) and four analogue signals.

Battery Pack

The battery pack gives approximately eight hours of power from a full charge.
Specs
GPS Specifications
Velocity
Distance
Accuracy
0.2 Km/h
Accuracy
0.05 % (<50cm per Km)
Units
Km/h or Mph
Units
Metres / Feet
Update rate
10 Hz
Update Rate
10 Hz
Maximum velocity
1000 Mph
Resolution
1 cm
Minimum velocity
0.1 Km/h
Height Accuracy
10 m 95% CEP*
Resolution
0.01 Km/h
Latency
<160ms
Absolute Positioning
Acceleration
Accuracy
5m 95% CEP *
Accuracy
1 %
Update rate

10Hz
Maximum
4 G
Resolution
1 cm
Resolution
0.01 G
Heading
Time
Resolution
0.01°
Resolution
0.01 s
Accuracy
0.2°
Accuracy
0.01 s
* CEP = Circle of Error Probable - 95% CEP means 95% of the time the position readings will fall within a circle of the stated radius.

Other specs
Storage Options
SD card; 2GB max, must be FAT file system
Recording time depentant on card capacity (approx. 1.1 MB per hour used)
Environmental and Physical
Input Voltage
6 – 28 V DC
Size
113mmx63mmx93mm
Power
+12v vehicle supply
Weight
225g
Operating temperature
-20°C to +50°C
Storage temperature
-30°C to +80°C
Support
| | |
| --- | --- |
| Hardware | One Year Support Contract |
| Software | Lifetime Support Contract: Valid for a minimum of 5 years from the date of purchase and limited to the original purchaser. Contract includes: telephone/ email technical support provided by local VBOX Distributor and firmware/ software upgrades (where applicable). |
Download or print Datasheet.