Circuit Map Database - New tracks added
We have added over 50 new tracks to our track map database.
To update to the latest track map database, you will need to download two files. One for
your product (VBOX Touch Performance Box Touch, VBOX LapTimer, VBOX Video HD2, Video VBOX, Performancebox/Driftbox) and
your software (Installer for Circuit Tools, Video VBOX Setup and VBOX Video Setup).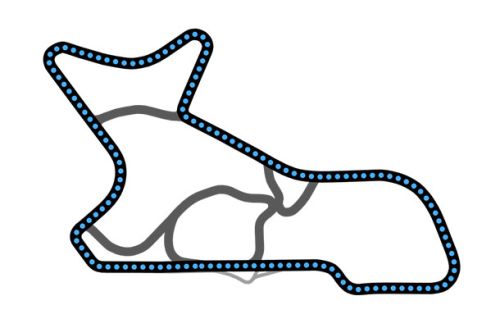 Added (countries A-P):
Mar del Plata (Argentina)
Morgan Park A (Australia)
Morgan Park B (Australia)
Morgan Park D (Australia)
Morgan Park E (Australia)
Morgan Park K (Australia)
Oran Park (Australia)
Note, this circuit does not exist anymore. Updated for sim use.
iCar Mirabel (Canada)
iCar Mirabel Long (Canada)
iCar Mirabel Long with Chicane (Canada)
Guia Circuit (China)
Ningbo International Circuit (China)
Issoire Circuit (France)
Autodromo ATCM (Mozambique)
Villa Real (Portugal)
Transilvania Motor Ring (Romania)
Navak Driving Academy (Serbia)
Andalucia Layout 1 5k (Spain)
Andalucia Layout 2 4k (Spain)
Andalucia Layout 3 2.2k (Spain)
Circuit de Catalunya with updated chicane (Spain)
Drive Centre Arena (Sweden)
Gotland Ring 3.1 (Sweden)
Ostersunds Kart Circuit (Sweden)
Molanda Raceway (Sweden)
Izmir Park (Turkey)
(New layout and formerly known as Pinarbasi)
Korfez Circuit (Turkey)
Added (countries U-Z):
Curborough, with updated layout (UK)
Kames Motorsport Circuit (UK)
Kames Motorsport Circuit Reverse (UK)
Prescott Hill Climb (UK)
Belle Isle GP (USA)
Collie Motorplex Long (USA)
Davis Kart Club (USA)
Dixon Kart Circuit (USA)
Dominion Raceway (USA)
Indianapolis SCCA (USA)
Polecat Driving Academy (USA)
Rockingham Infield (USA)
Sonoma Kart Circuit (USA)
Summit Point, Jefferson (USA)
Summit Point, Shenandoah (USA)
Thermal Point, Desert North (USA)
Thermal Point, North Palm (USA)
Thermal Club, Full Track (USA)
Monticello, Full Course (USA)
Nashville Music City Street Circuit (USA)
Nashville Super Speedway (USA)
Miami Concours Club, Outer Loop (USA)
Gateway Motorsports Porsche 2 mile (USA)
Donnybrook (Zimbabwe)