How to make the most out of your home simulator
Riley Phillips, the youngest ever BRSCC FunCup racing driver and founder of the Virtual FunCup UK Series, explains how the VBOX Sim Pack turns your basic home rig into a top tier Sim, enabling you to be competitive straight out of the pits.
Simulators are a massive part of F1 racing. With the FIA limiting practice time, simulator time has become the training and proving ground for F1. Yet outside of the top tier there is still reticence to embrace the simulator as a valid racing driver aid.
There are inherently differences between a sim and real driving; the sustained G-Force and vibrational feel being the main factors. As Niki Lauder said "I have a great ass" but all that is lost in a sim.
So, if they aren't realistic why do F1 bother?
Accuracy is why. The F1 teams have one massive difference from your average sim, that is DATA. They have accurate data of every turn of the wheel, dab of the brake and squeeze of the throttle, G-Force acceleration, combined G and the list goes on. More importantly they can directly compare that sim data to real lap data and vice versa. This is all very well on a sim that costs millions of pounds, but how do we take our humble home rig and make it more relatable to the track?
You add the VBOX Sim Pack, which turns your humble home rig into a top tier sim with real data tracking that's how. Data that compares your real track data side-by-side with your sim data. You can compare brake points, combine G-Force with your real lap and see where you can improve and where you have issues to iron out and then focus on that aspect in the sim. It takes the home simulator to a whole new experience. Even if you don't race on track, taking your sim data analysis to the next level will improve your driving and setup immensely.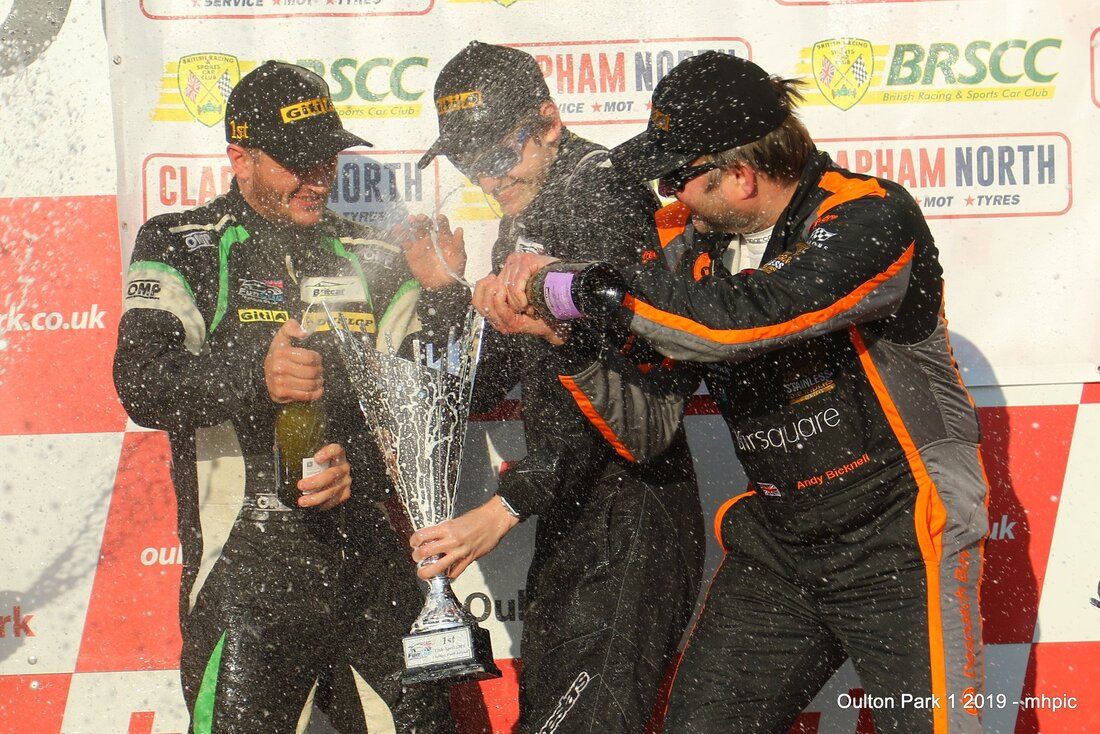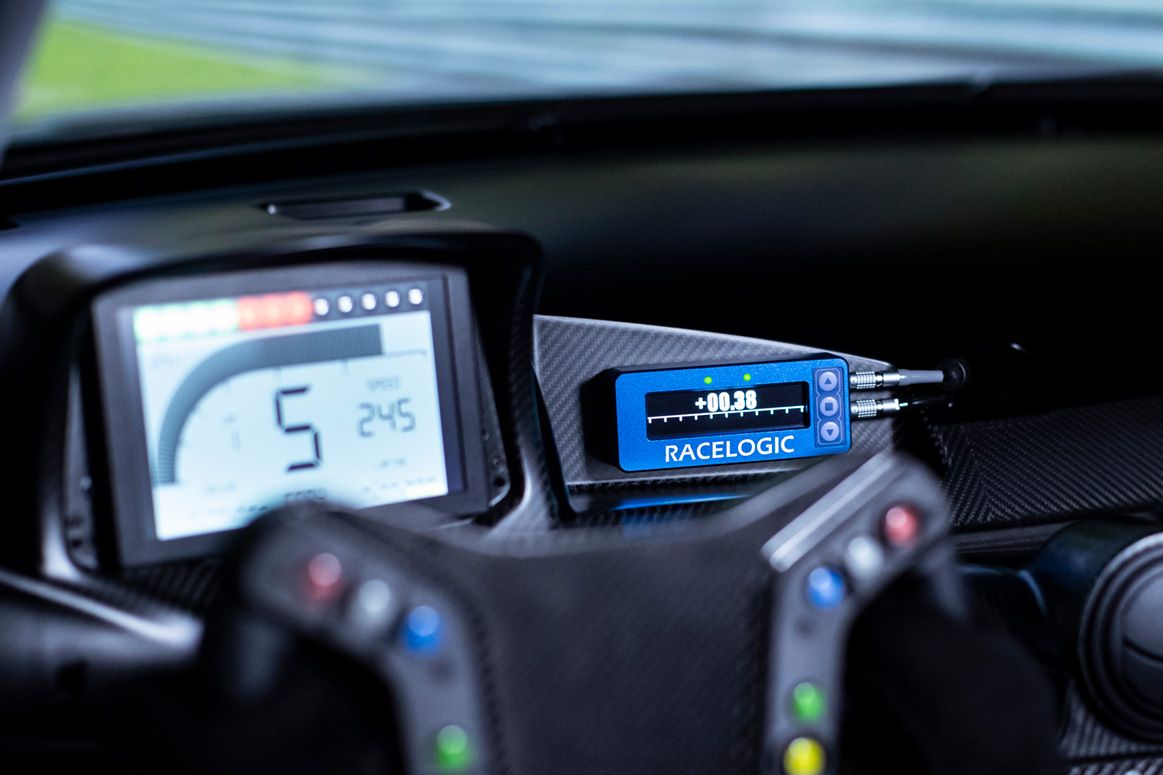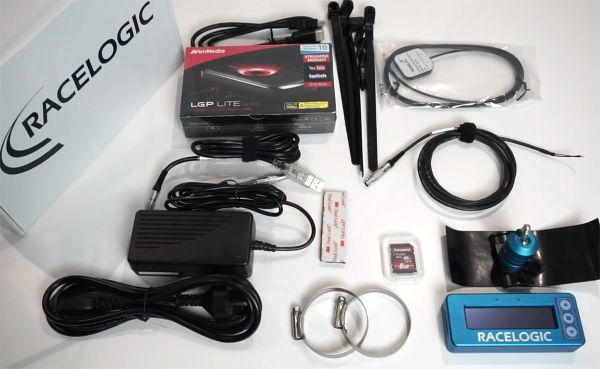 What you get and tips on how to use it
Essentially the VBOX Sim Pack contains a VBOX LapTimer, power supply, video capture box and connectors for your PC. One of the great things if you do race on track is that the lap timer comes complete with a GPS unit and all the wiring to connect to your car, so you don't have to buy any more equipment to use on track.
One tip found while using VR was not to try and connect to the capture box in line with the VR, or neither starts up, each seems to wait for the other. So the capture box needs to go in line with the Screen and VR directly with the Video card. Apart from that setting up the VBOX Sim Pack is easy, plug in, download Circuit Tools, and in less than 30 minutes you'll be ready to go.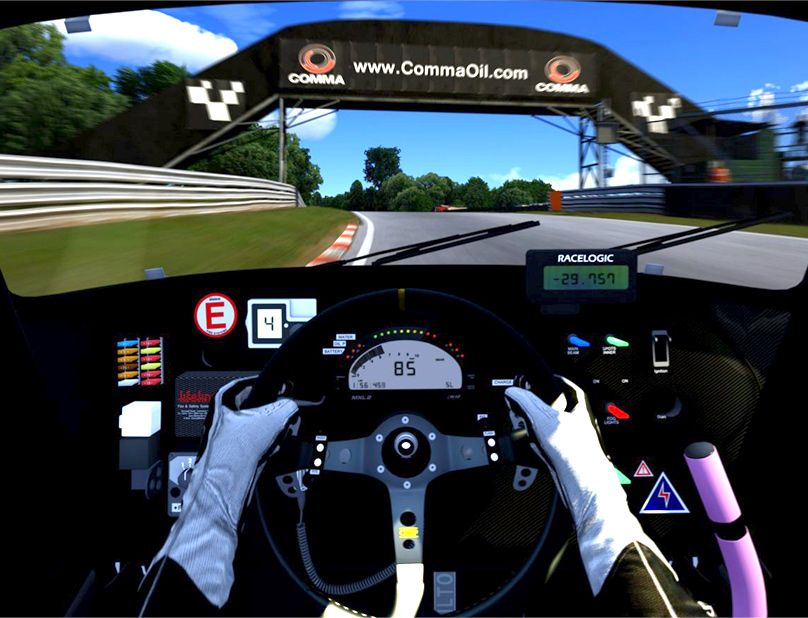 Riley Phillips has been using simulators all his racing career. He took the jump into car racing from Karts at 16 and became not only the youngest BRSCC Funcup race driver but youngest ever winner. Simulators enabled Riley to turn up at tracks he had never been to and be fast straight out the pits. Having never had a senior race licence, and no finance to practice, Riley had to rely on simulators to learn the tracks. It obviously worked as he was consistently one of the fastest drivers on track with two wins and a second in his first full season.
You do however require an accurate model of your racing car in the simulator. The VW Funcup is a single seat race car with a silhouette of the old VW Beetle. Although popular in endurance racing across Europe for 20 years there aren't any good models of the car in simulators today. Riley set about making a car in Assetto Corsa. He could not get the handling right and this is where VBOX Sim Pack came in. Although he had plenty of data and could match the speed of the car to the real car the dynamics were all wrong. This is where the VBOX Sim Pack allowed all the data to be compared side by side in a way not possible previously. The differences could now be honed down and an accurate car was produced.
The plan was that Riley would use the new sim model to prepare for the 2020 track season. Riley setup a few coaching sessions with other drivers at Oulton Park; using a portable sim to train the drivers in between track sessions. Comparing their real and sim data showed remarkably similar driving traits, which then could be worked on to help improve the driver quicker thus maximising track and tuition time and value.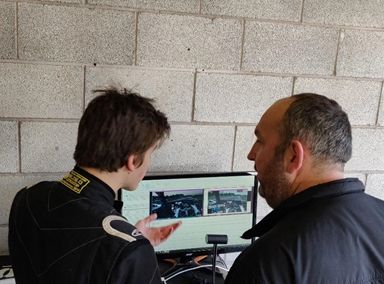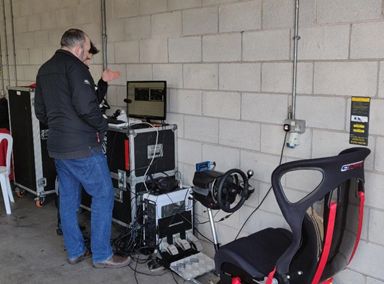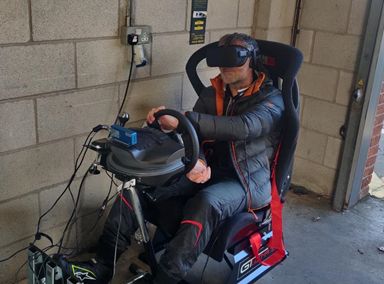 Data analysis and sharpening of the finer details is what separates the top tier of racing from other levels. The VBOX Sim Pack allows that same kind of data analysis on your home sim and so importantly allows that data comparison with your real-world car and driving. It has definitely been worth its weight in gold, with track time as expensive as it is, being able to do realistic practice at home is a massive boost. Also learning more about data analysis helps as a driver, more so as you progress to higher levels of racing and competition, either online or on track.
Little did Riley know pre-season that his sim model would prove popular with all the Funcup drivers, and with the Coronavirus situation would spawn a whole series of virtual Funcup championships running across the UK and Europe. "It's been amazing to set all this up and help keep all these drivers with the virtual racing, but I am looking forward to getting back to the track".
For more information about Riley Phillips, visit: www.rp-racing.co.uk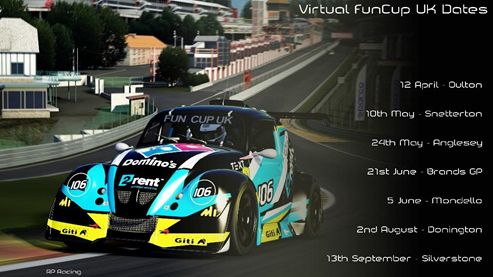 Read how VBOX Sim helped Riley Phillips create a more accurate car virtually.