Junior VBOX Training Day - 17th February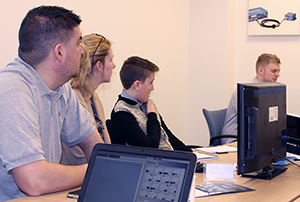 Every month we have a training day for VBOX Motorsport customers, so that they can get the best out of their equipment. Half the time is spent on setting up a Video VBOX or VBOX HD – for graphic setup, logging strategy, audio and so on; the other half is an in-depth look at Circuit Tools, the racing analysis software.
This year we are holding an additional training day for junior drivers. If you are racing in a junior series and would like to come to a special day at Racelogic on Wednesday 17th February, sign up here. As well as the training course we'll also give you a guided tour of the Racelogic headquarters, a presentation on race craft, and some time on our simulator.
Please note that spaces on this day are reserved for junior drivers and their parents only; there is a standard training day on Thursday 18th.
Spaces are limited for all our training courses so an early application is advisable! Sign up here >