Introducing VBOX Sport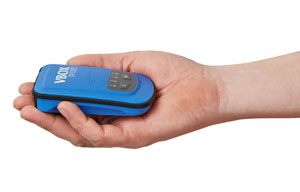 After 18 months of development we are delighted to announce the release of VBOX Sport.
VBOX Sport will be available to order from the Racelogic Online Store week commencing 18th March 2013.
VBOX Sport has been designed as a self-contained, waterproof, 20Hz GPS data logger to accurately measure vehicle performance or lap times.
It can be used as a stand-alone logger, or connected to an iOS device via Bluetooth to allow you to see your results in real-time using our free apps.
The unit is very light-weight and rugged so can be stored securely in any car. It also comes with the option of attaching an external antenna, which makes it suitable for motorbikes, bicycles and backpacks.
The battery life is at least 6 hours and detailed lap-by-lap comparisons can then be made using Circuit Tools.