Use your smart phone as a predictive lap timer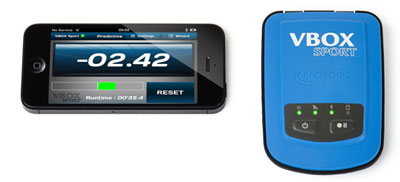 The new VBOX Laptimer app lets you use your iPhone as a predictive lap timing display, giving you immediate access to the information you need to improve your lap times.
It works with the in-built GPS of the iPhone (1 sample per second) or connected via Bluetooth to a VBOX Sport to integrate high accuracy data 20 times per second. The VBOX Laptimer app uses this to provide you with an accurate prediction of your current lap time compared with your best.
You can use your iPhone or iPad to display your speed, current lap time, predicted lap time or a list of your previous times. For the apps Key Features click here.
If you are not an Apple fan and prefer to use Android devices, all is not lost. Both the popular Harry's GPS Lap Timer and RaceChrono GPS Lap Timer apps – both compatible with VBOX Sport - now include an Android version.