New product releases and show offers at Autosport 2014
It's that time of year again, Autosport International is just around the corner and we would like to invite you to come along to the Racelogic stand 7535 in Hall 7 to see what we have on offer.
Purchase your 2014 logging equipment at Autosport!
We will have plenty of stock and special offers at the show. Save up to 17% on selected products when buying at Autosport.
New product launch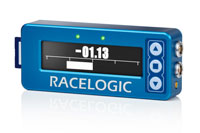 We are particularly excited about the brand new VBOX LapTimer which is being launched at the show.
This new standalone predictive lap timer not only shows your predictive 'delta-T time', but also has multi-coloured LEDs showing your speed difference or 'delta-V' as well.
We believe that this is a real breakthrough in driver feedback and really helps focus the mind on getting the best exit speed from the corner. So if you want to up your game in 2014, then it could be well worth while popping by to see the demonstration.
VBOX HD
The new VBOX HD takes video data logging to a whole new level. Stunningly clear 720p high definition video synchronised to 10Hz GPS makes analysing your braking, turn-in, apex, and exit points clearer than ever before, thanks to the revolutionary Global Shutter technology used in the tiny bullet camera. At the show we will have plenty of video for you to study, including several clips demonstrating the post-processed graphical overlay.
The VBOX Sport has recently had its functionality augmented with the release of the Lap Timer App. The new app - available to download to your iPhone or iPad from iTunes - features our highly accurate predictive lap timing, giving you the same level of instant evaluation available from the other displays in the VBOX Motorsport range. The VBOX Sport - with internal battery and GPS antenna, SD card logging, small waterproof enclosure, Bluetooth communication to iOS and Android devices, and 20Hz update rate - is a truly versatile data logger that can be used in any vehicle.
Video VBOX on offer!
We will have the Video VBOX and assessories available to buy from the stand at special show-only prices. Still at the forefront of video data logging, Video VBOX has helped a legion of racing drivers and motorsport enthusiasts to improve their track performance.
For example, save £239 when buying the Video VBOX Lite & Predictive Lap Timing Display package at the show, or save £279 on the Video VBOX Waterproof & OLED package.
WE CAN BE FOUND AT OUR USUAL STAND IN HALL SEVEN – NO. 7535.