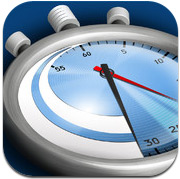 LapTimer is a powerful lap timing app which works with the internal GPS of the iPhone or as a companion to the VBOX Sport which uses a high accuracy GPS receiver to enhance the capabilities of your iPhone.
Collecting GPS data at 20 times per second the VBOX Sport provides a level of accuracy currently unheard of with iPhone and iPad apps. Our LapTimer app uses this data to provide you with accurate lap times and predictive lap times for your vehicle.
You can use your iPhone or iPad to display your speed, your current lap time, your predicted lap time or a list of previous lap times all using the same VBOX technology used by many of the world's major motor manufacturers and car magazines.