How to enhance your race series with in-car video

The use of video by race series is becoming more common and increasingly necessary.

With everything that is happening on a race day, you need to be sure that a video system is easy to use, quick to install, and above all that it can function reliably in the demanding conditions inside a race vehicle.

Having successfully worked with other race series and championship, we can help you realise the potential of in car race video and data.
Why use Video VBOX in your race series?
Video VBOX is an ideal tool for any race series because it aids closer racing, more easily resolved disputes, and adds sponsorship and promotion opportunities. Here's how...
Video Logging Resolves Disputes in Racing
Crashes are costly. The number of incidents in one season can have a direct bearing on how many line up on the grid the following year. The use of video and data evidence dramatically reduces the number of incidents to begin with, and gives clarification when resolving disputes.
Race series organisers around the world have increasingly been turning to 'black box' solutions to record video and data and support their own marshals, to understand exactly what's happening on the track during the race and avoid driver disputes.
An accurate understanding of a racing incident has often resulted in cases being resolved far sooner.
| | | |
| --- | --- | --- |
| | After a number of incidents, the Australian GT Series wanted the best available system for their race monitoring, with a view to bringing down dispute costs, and also to offer wider possibilities for recording their races. The solution they chose was Video VBOX Pro. | |
Closer Racing with Racing Analysis
Every driver has access to the simple and popular Circuit Tools software, which helps show where time could be gained on the track.
Slower drivers then have a far better chance of improving their times, ensuring closer racing as the season progresses.
Julian Thomas, MD of RACELOGIC, tried this himself by entering the FunCup series and cutting four seconds from his lap time, just by using Video VBOX. Closer racing means more entertainment, which in turn leads to increased exposure for you.

DPR Motorsport, a leading Caterham approved team, have set up their very own track side media centre to allow their drivers to benefit from data captured using Video VBOX.

David Rowe, DPR Team principal, said: "As a team historically we have always relied heavily on data acquisition. We have found using the Video V Box system together with our trackside media centre has enabled us to improve our support package further. Providing fast and convenient access to all of the team data gives our drivers the ability to analyse and view that data away from the circuit and between race weekends which is key to improving performance."
Video Footage Increases Publicity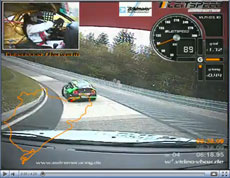 Using Video VBOX footage really puts across the excitement of racing in your series. The video is therefore ideal for your website and promotional material. In addition the viral nature of videos and the ease of uploading to YouTube will increase your online presence.
Take this example of a VLN race at the Nurburgring, where one Video VBOX video got over 2300 YouTube views. Imagine the extra publicity if every one of the drivers in your series was to do this!
Video Graphic Overlays Secure Sponsorship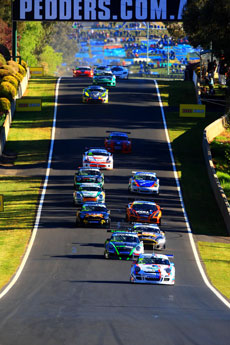 Video VBOX's graphic overlay allows you to have logos embedded in the videos. This is an ideal place for sponsorship, and because of the customisable nature of Video VBOX, it's easily configured to suit different events and sponsors as you can see in the Australian GT video clip, below.
The Vodka O logo on the video clip from the Australian GT race below helped secure the sponsorship deal for the series.
What the Australian GT Series said...
Video VBOX has been a great addition to our race series, for two reasons. Disagreements and racing incidents have been evaluated and resolved far quicker than they used to be, and with much less drama. Secondly our sponsors, Vodka O, are very pleased with the additional exposure generated.
More Advantages
Video VBOX is used by race teams, race series, industry testers, and drivers all over the world, and enables you to capture all the action with high accuracy and captivating detail from up to four bullet cameras. With its quick installation and automatic logging features, it is intuitive to use and records footage is DVD quality.
User configurable graphics will overlay data on the video in real time, along with any logos.
The synchronised data and video can be analysed in RACELOGIC's Circuit Tools software, and the video can be uploaded straight to YouTube or onto a DVD.
The system employs easily removable flash media, allowing for instant analysis should it be required. See our product range here.
Please contact us for further details.