VIDEO LOGGER RANGE
Download Video Logger Comparison (PDF)
High Definition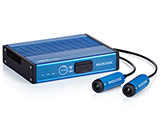 VBOX Video HD2
VBOX Video HD2 is the ultimate in video data logging for those who want to achieve better lap times and greater consistency at the wheel of their race car.
Standard Definition
Video VBOX Pro

A high-end in-car video system aimed primarily at motorsport professionals and driving instructors.

Video VBOX Waterproof (legacy)


Housed in a water resistant casing, Video VBOX Waterproof incorporates a flange and mounting holes to allow you to bolt the data logger anywhere on the vehicle.

Video VBOX Lite

Video VBOX Lite is the established club racer's choice. Recording standard definition video via two cameras, with real-time graphical overlay and 10Hz GPS data logging, the Lite has a wealth of features at a budget price.
PERFORMANCE METER & LAP TIMER RANGE
Download Performace Meters & Lap Timer Comparison Chart (PDF)
| | | | |
| --- | --- | --- | --- |
| VBOX LapTimer | VBOX Sport | PerformanceBox | DriftBox |