The Quickest Way to Go Faster
Improve your lap times with VBOX Video Race Data System
By combining accurate GPS data with synchronized video, you have an onboard system that quickly allows you to find where you can improve, in the shortest time possible.
You don't need to be an experienced race engineer to use VBOX: it is designed by racing drivers, for racing drivers.
VBOX Video HD2 features 1080p video, real-time synchronised video/data with graphical overlay, Bluetooth and WiFi connectivity. The internal 10 Hz GPS engine recognises the race track you are driving and automatically configures the track map and lap timing. Automatic recording, a pre-record buffer and internal power backup ensure that you capture absolutely all of the race action.
Our powerful analysis software, Circuit Tools, is designed to give you instant access to the information you need to imporve your lap times. Available for Windows, MacBook, and IOS, Circuit Tools is intuitive and makes the process of understanding where gains can be made, not only extremely straightforward, but also very rapid.
Contact our US Office or any of our US Distributors for more information.
Product Features
Dual-Camera input with live preview
1080p HD video recording
10 Hz GPS data logging
Records to SD card or USB
Predictive Lap Timing (with OLED display)
Real-time, high-definition graphic overlay
MP4 video & audio recording
Works with PC, iPhone, iPad and MacBooks

'Lose no data' power backup
Up to 32 CAN channel inputs
USB 2.0 host interface (for recording to USB flash drive)
Bluetooth for heart rate and OBD car data
Unrivalled, free lifetime support
Easy to Use
Real-Time Graphics
The real-time graphics engine produces full colour HD graphics showing speed, G-force, lap times, track maps and sensor data. These graphics are overlaid onto the main video picture in real time (not using software afterwards), making your videos much more exciting and informative.

Dual 1080p video superimposed on real-time graphics - lap times, g-force, track position, & speed
HD Race Cameras
The video cameras are designed in-house using the latest Sony Exmor™ HD sensor, which gives superb colour reproduction and great night sensitivity. They are small, waterproof and come with a 3m cable allowing remote mounting.
Preview Apps for Camera Alignment
Our free Preview App with live output allows you to check the alignment of your cameras on your iPhone or Android Phone.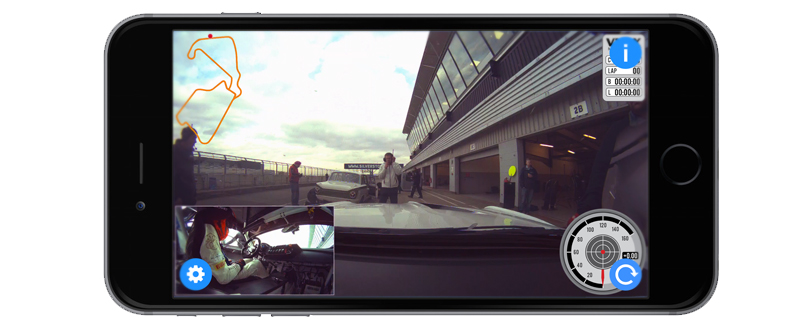 You can now set an exposure window on the camera preview, ensuring absolutely perfect video capture every time, avoiding the 'letterbox' effect that can occur on very bright days.
The Wi-Fi network that connects the HD2 to your smartphone is password protected - useful when surrounded by fellow users in the pit garage!
Video Pre-Buffer
As far as we know, no other in-car video camera can do what the VBOX HD2 can, and that is to continuously buffer up to 30s of video before the car starts moving. The moment you move above 15km/h, the video pre-buffer is written out to the memory card, ensuring that you capture absolutely all of the action.
Compatible with AiM Dashboards
If you're running an AiM dashboard or logger, you can now record the CAN data directly from it into a VBOX Video HD2. All the AiM CAN channels have been incorporated into the VBOX database so you can select the channels in HD2 setup that you want to log.
A physical connection between the dash/logger and your HD2 is made possible with the new cables RLCAB144 and RLCAB145, available to order now from our eStore. These cables will make it possible to connect directly to the AiM dashboard or the AiM Smartycam connection cable.
We have also created this scene for use on an HD2 which you can download here.
There are a significant number of parameters available for logging, including Brake Position, Brake Pressure, Fuel level, Lateral Acceleration and Steering Angle.
Intuitive Race Analysis Software
Circuit Tools is designed by racing drivers for racing drivers, with none of the complexity normally associated with data analysis software. Watch the video below to see how easy Circuit Tools is to use:
Huge Track Database
The software automatically detects the country, circuit and track configuration from a database of almost 500 circuits and uses the start/finish line information to separate the laps contained in your recorded file.
The fastest lap from your latest session is automatically chosen and displayed on the graph window. The video is moved to the start of this lap. You can compare runs from this session, or from previous ones simply by clicking on the relevant lap time shown in the session window.
Library of Free Scene Files
RACELOGIC offer out-of-the-box scene files to use with your VBOX Video HD2. The scenes are vehicle specific and come with or without CAN parameters assigned to them.
At the moment we have only a few scenes ready to download, but the library is growing constantly. Check out which scenes are available or how to request your custom scene.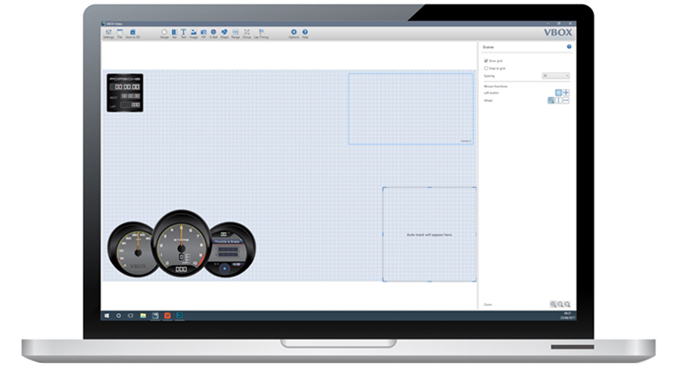 About RACELOGIC
At RACELOGIC we have been designing and using cameras in many different types of race cars for over 7 years at all levels of motorsport. We are passionate about racing, and have used our own products to win a number of different championships, setting fastest laps and multiple pole positions along the way. We have now sold over 10,000 VBOX Video systems to motorsport customers worldwide, making it one of the most popular motorsport camera systems on the market.
This is because the VBOX is easy to use, reliable and gives you a very clear route on how to drive faster.
We have put all of that knowledge and experience into the design of our latest camera system, the VBOX Video HD2, which is designed to be simple, yet powerful enough to even satisfy the highest level of motorsport teams.
Some of the most famous, high profile racing car manufacturers now use the VBOX Video HD2 in their race cars, and from the feedback we have received, the drivers love it for its simple ability to improve lap times.