As Nigel approaches the corner, he is slightly further over to the right of the track than Dirk, allowing him to carry a little more speed through the corner, making up 0.3 s.
Nigel actually misses the apex of the first corner, whereas Dirk is clipping this apex. They both have the same speed through this section. No time is lost or gained at this point, but by running much wider into the next corner, Nigel (right) can use more of the track and carry much more speed through the next section.
Dirk was treating the two corners as separate sections, using a traditional apex on both, whereas Nigel was combining them into one section. This meant he could exit the second corner faster and carry this speed onto the next straight.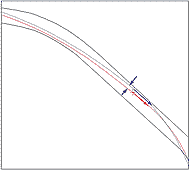 By switching to the track map and looking at the driving lines generated from the GPS data, you can see this different approach. Nigel misses the apex of the curve in order to get much further over to the left for the next right-hand corner.