Brake Temperature Monitoring
The RACELOGIC Brake Temperature Monitoring System measures, logs and displays the surface temperature of the brake disc, providing invaluable information to the test driver whilst on track.
Up to 16 temperature points per sensor
Surface temperatures ranging from -20 °C to 950 °C
Compatible with VBOX Video HD2 and VBOX Touch
Live temperature display with VBOX Touch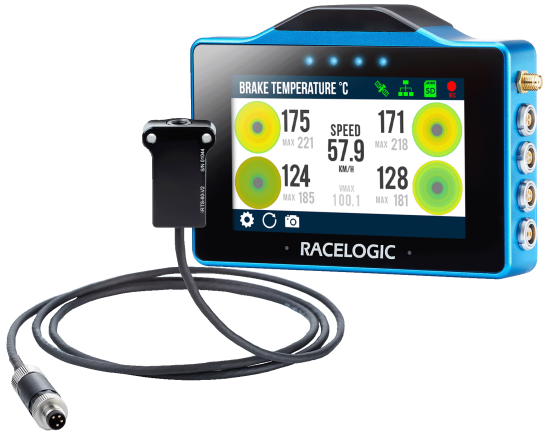 Temperature
Each of the four 60° FOV sensors can measure up to 16 temperature points on an object with surface temperatures ranging from -20° C to 950° C.

Live display
When used with the VBOX Touch and the Brake Temperature Monitoring app, you can see the 64 individual heat maps live on screen, as well as live temperature and maximum temperature values.

Compatible with VBOX Video
The sensors can also be connected to a VBOX Video HD2 and the heat maps overlaid in real-time on the video. This shows you exactly what is happening on track and makes it easy to interpret the data.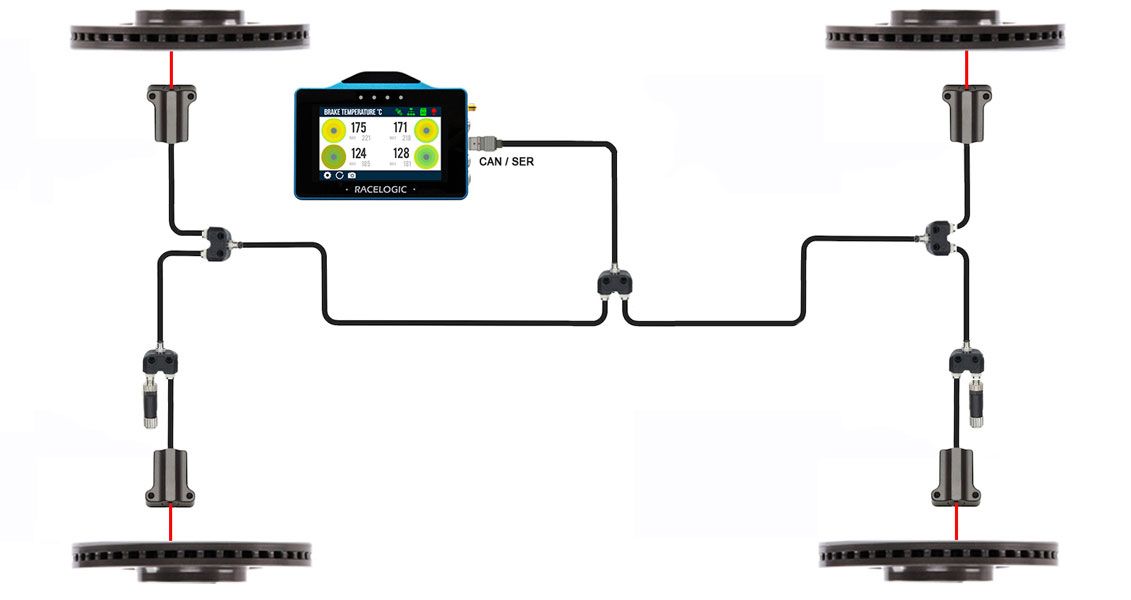 Our Brake Temperature Sensor Kit (RLACS314) measures the highly transient surface temperature of a brake rotor at multiple points, making it possible to acquire the time-based temperature distribution across a rotor's surface in order to evaluate & optimize the pad pressure distribution, pad selection, cooling efficiency, braking efficiency, and hot spot formation from thermoelastic instabilities.
A sensor is capable of measuring temperature at 16, 8, and 4 points, at a sampling frequency of up to 100 Hz and an object temperature of between -20 to 950˚C. All sensors are enclosed in a compact IP66 rated aluminium housing.
When bundled with the VBOX Touch data logger (RLVBBTMS), you can measure, log and monitor the surface temperature for all four brake disks on a daylight readable 4.3" colour display. The brake temperature monitoring app will show a heat map for each sensor, live temperature and maximum temperature values.
The brake temperature sensors can also be used with a VBOX Video HD2 data logger. The recorded temperature data is synchronised with the video and can be displayed as a real-time graphic overlay on the video footage.
Temperature Measurement Range: -20 °C to 950 °C
Accuracy: ±2.0% FS for -20° C < Tp < 85° C
Field of View (FOV): 60° x 8°
Number of Channels: 16
Thermal Time Constant: 2 ms
Effective Emissivity: 0.01 – 1.00 (default = 0.55)
Spectral Range: 8 to 14 μm
Recommended Supply Voltage: 5 to 8 V
Supply Current: 30 mA