VBOX Video HD2 Setup Software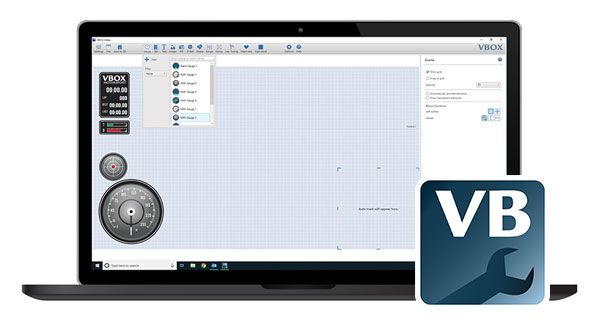 1.7.5 - 4 July 2023
[New] Added 60fps camera/HD2 compatibility message
[New] Added HDMI 'Camera x (No graphics)' compatibility message
[New] Added 'VBOX Solution type' channel
[New] Added 'HD Overlay', an experimental feature for VBOX HD Lite 


[Fix] Language retention issues
[Fix] Scenes failing to saving in non-English languages
[Fix] Saved SPL files now work from all languages
[Fix] Scenes now save to correct library location in non-English languages
[Fix] Maths channels sometimes weren't retaining formatting
[Fix] Maths channels would show errors incorrectly
[Fix] Software would not open in some situations
[Fix] Track map sometimes wouldn't change correctly
[Fix] Removing invalid signals no longer causes CAN signal list to get mixed up
[Fix] Improved performance with large number of maths channels
[Fix] Restored HDMI/60fps warning message
1.6.294 - 18 October 2022
[New] New shape element – rectangle with rounded corners
[New] OLED Delta time now available as bar graph data source
[New] Can now override default CAN baud rate for vehicles in the vehicle database
[New] Scale and offset calculator built in
[New] Warning not to configure CAN Gateway if already configuring it via dedicated CAN Gateway Setup software
[New] Warning about setting 60fps with complex scenes
[New] Warning about raw CAN logging affecting performance


[Change] HDMI info message updated to include new camera information
[Change] 60fps info message updated to include new camera information
[Change] Increased number of decimal places available on numbers in Range element
[Change] Removed audio output option for Camera 1/Camera 2 'no graphics' HDMI modes
[Change] Improved Japanese translations
[Change] Improved German translations


[Fix] G-Ball Y-Axis data source list not updating sometimes
[Fix] CAN channels could be retained from previous scene when creating a new scene
[Fix] Some language/region settings could cause scenes to fail to install on HD2
[Fix] Element layer order could be incorrect when loading scenes into software
[Fix] Negative scale can now be set for CAN channels
[Fix] PiP element could sometimes not display if resized in older software
[Fix] Maths channel name could cause assigned gauges to not show properly
[Fix] Invalid G-Ball marker image could be loaded and not display
[Fix] G-ball direction could be opposite in software compared to video from the HD2
[Fix] Imported DBC files now validated and issues highlighted to the user
[Fix] Invalid CAN channels could be assigned to elements, causing scene to fail to save
[Fix] Some UI titles had # at the start
1.5.275 - October 2019
[New] Adds support for 60fps on V5/V6 units
[New] Adds support for MoTeC sync
[New] Adds Racelogic & VCI CAN mode
[New] Adds ability to enable audio over HDMI
[New] Adds FIA CAN GPS mode
[Fix] Multiplexor wasn't displaying correctly
[Fix] Audio gain wasn't being set correctly
[Fix] Various minor bug fixes
[Change] Some elements updated to have tighter borders
[Change] Default scenes updated with new elements
1.4.259 - February 2019
[New] – Adds ability to set HDMI mode of supported HD2 units (V6)
[Fix] - Heatblocks saved in a group weren't loading back as a group
[Fix] - Inverted values for G-Ball axis were not saving correctly
[Fix] – Integer places on media space parameters sets correctly
[Fix] – UTC Time parameter in Maths Channels now labelled as milliseconds rather than seconds
[Fix] – DD/MM in file name now displays correctly
[Fix] – General stability improvements
1.4.249 - October 2018
[Fix] - Scenes extracted from HD2 could show wrong logging mode
[Fix] - Some maths channels wouldn't work on HD2
[Fix] - Formatting of date in file name improved
[New] - Added current lap distance & current split distance
[New] - Time format hh:mm added
[Change] - Minimum width of Heat Block element decreased
1.4.245 - July/August 2018
[New] – Support/Setup for the new CAN Gateway product
[New] – Ability to log 80 CAN channels
[New] – Undo/Redo feature
[New] – Advanced logging
[New] – Raw CAN logging
[New] – Multiplexed CAN support
[New] – Element x,y location input
[Fix] - Several Bug Fixes
1.3.221 - April 2018
[Change] – Software now uses .NET Framework 4.7.1
[New] – Added Heat Block element
[New] – Added alternate text display for performance test parameters
[New] – Added test (demo) mode for elements
[New] – Ticking a channel in the CAN section now automatically selects it in the channel list
[New] – Added option to show/hide border for transparent elements
[Fix] – Elements lost assigned maths channels after element saved and reloaded
[Fix] – Heart rate monitor channel renamed so that files open in Circuit Tools
[Fix] – WiFi preview now fills whole background on high resolution displays
[Fix] – Changing track map can no longer cause map to extend off edge of screen
1.3.170 - June 2017
New - Software now detects what.NET framework version is running on the user's machine, and prompts the user to update if required for a full functional compatibility. .NET 4.6.2 is required.
1.3.165 - June 2017
VBOX Video HD2 firmware 1.3.58 required to support some new features
Performance tests disabled by default, only selectable when enabled
Removed CAN Acknowledge warning message
Improved stability
Changes DBC used for MIM01 module
CAN text parameters retain formatting through parameter changes
General settings UI changed so that it works better when program is windowed
Allows spaces and degree symbol in names and units.
Border around G-Ball 2 element resized so that it's now in line with the other G-Ball elements
Adds black dotted border around range elements that are invisible with no range graphics shown
Adds WiFi scene preview function
Scene on SD card is backed up if a scene with the same name is saved to the card
Adds section for Bluetooth OBD adapter
Adds section for Bluetooth heart-rate monitor (including heart-rate graphic element)
Fixes track map deleting even if 'no' was selected
Fixes media volume size element recording incorrect value
Fixes bug where line level sometimes didn't save
Fixes bug where elements could become invisible
Fixes bug where element selection didn't show after saving scene
Fixes bug where whole group wasn't snapping to grid, only the selected element
1.1.121 - October 2016
Fixes an issue with serial type none causing scene loading to fail.
1.1.120 - October 2016
Fixed issue with software not running on operating systems in language with coma as decimal separator.
Fixed issue with CAN not working properly with the above.
Fixed missing language translations
1.0.97 - June 2016