Performance Box Touch
Precision Performance Meter & Lap Timer with Easy to Use Color Touchscreen
Performance Box Touch doesn't just report a number, it gives you real-world data to analyze with our free software. Use this to see what differences changes to your car or driving make, so you can go faster!
4.3" color touchscreen
Multiple operating modes
Powerful data analysis software
Flexible antenna options
Features

Large Touch Screen
4.3" TFT daylight readable capacitive touch screen, 480*800 pixels

Multiple Operation Modes
4 modes available which allow you to conduct a range of performance tests and functions: Acceleration, Deceleration, Lap Time and Speed.

6hr Battery Life Time
An optional clip-on battery allows you to record for up to 6 hours without plugging in the power lead.


Flexible Antenna Options
Performance Box Touch comes with an internal patch antenna and has the option to connect an external GPS antenna for even better accuracy.

SD Card Logging
All these parameters are logged to an SD card ten times per second and can be viewed and analyzed in detail using the supplied software.
Looking to improve your lap times?
Performance Box Touch can help you make rapid progress.
Bright LEDs clearly indicate how your speed compares with previous laps, helping you to determine gear selection, find braking points, or understand how much speed you can carry into and through a corner. The screen displays your best lap time, your current lap time, and the difference between the two. You also see total session time and number of laps completed, giving you the information you need to make decisions even before you see your pit board.
Operation Modes
Performance Box Touch has four modes available which allow you to conduct a range of performance tests and functions: Acceleration, Deceleration, Lap Time and Speed. Accel tests also have a slope correction mode that will correct the acceleration time results for the gradient the test was performed on.
Accel/ Decel Modes
Lap Timing Modes
Powerful Circuit Analysis Software
Each Performance Box Touch is supplied with an SD card containing the VBOX Test Suite and Circuit Tools software. Circuit Tools is designed by racing drivers for racing drivers, with none of the complexity normally associated with data analysis software.
The software will automate many tasks and give you all the information required to improve lap times.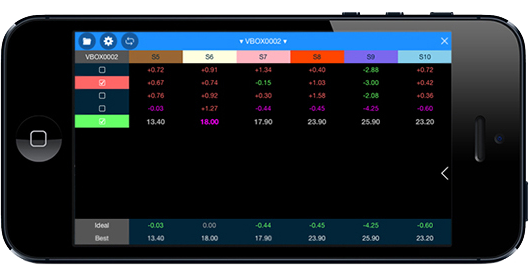 Circuit Tools is now compatible with Windows, macOS and iOS devices.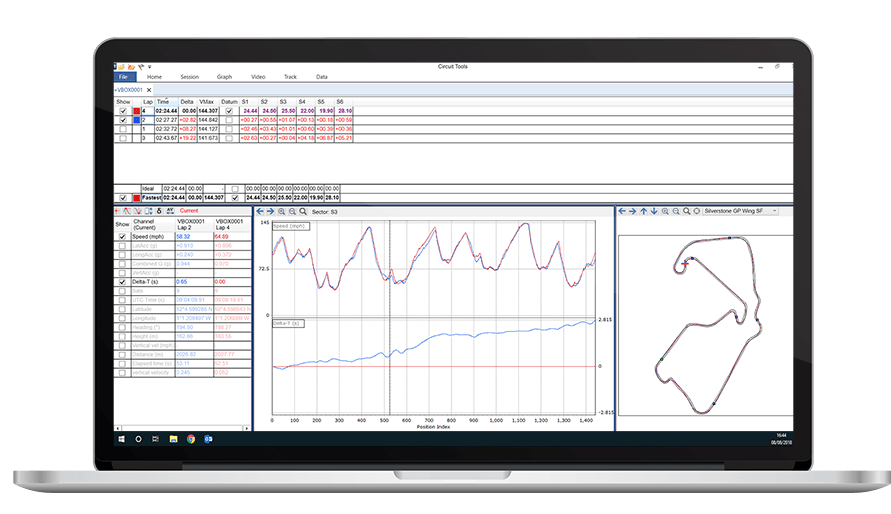 Fastest Lap First
The fastest lap from your latest session is automatically chosen and displayed on the graph window.
You can compare runs from your latest session, or from different days, drivers or sessions simply by importing them and clicking on the relevant lap time shown in the session window.
Data Window
The data window displays the values of the channels which have been logged at the position of the graph cursor. By default, Speed and Delta-T are displayed.
Track Map Position
A market shows your position on track as you go through the data.

Delta-Time Trace
Time difference or 'Delta-T' is a very useful channel that shows the lap time difference between two different laps, e.g. your last vs. your fastest lap or your best vs. another drivers lap. Use this to pin-point areas for improvement.
Still not convinced?
See what VW Classic Championship racer Dan Rose thinks about the Performance Box Touch on his first trial, or take a look at the independent review from Speed Labs by MotorEnvy.
You might also be interested in ...
VBOX Sport - This lightweight, portable data logger that can be used in any vehicle and environment to measure performance or lap times. It connects to your mobile devices via Bluetooth link and allows you to see live results when using our free iOS apps or selected iOS/Android partner apps.