OLED Displays
The high contrast OLED display is the perfect partner to your VBOX. Suitable even in bright conditions, the display provides sharp graphics and is simple to use.
It can show a wide range of parameters, including live and max speed, lap times, and predictive lap timing.
The OLED display can start and stop logging in conjunction with some VBOX models and report logging status.
The displays are available in three different casings and form factors. The Mini OLED has additional LEDs to indicate your speed relative to your fastest lap.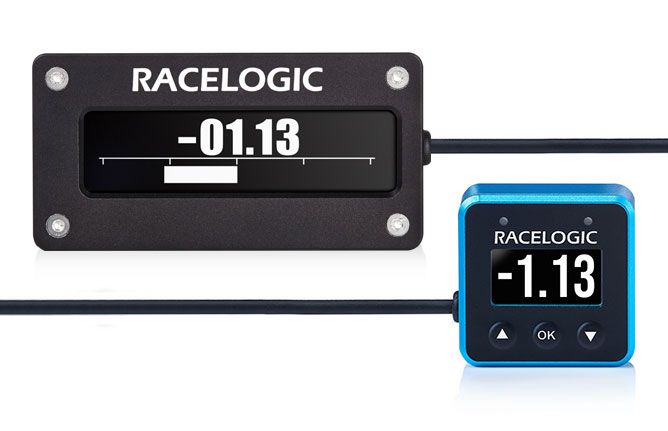 Features

Predictive Lap Timing
Compares your current lap to your best in real time to help improve lap times. The Mini OLED has additional LEDs to indicate your speed relative to your fastest lap.

Compatibility
Compatible with RACELOGIC data loggers, including Video VBOX Lite and VBOX Video HD2
Easy Operation
Three buttons to scroll display screens, set start/finish points, reset data, start/stop logging, and enter menus
Internal Accelerometer
Flips display according to the way it is mounted
How does it work
Predictive lap timing has been available for some time, but traditional methods have generally relied on a distance measurement (normally from a wheel speed sensor input) for calculation.
However, distances lap-to-lap almost always change: either by trying different lines, overtaking other cars, or perhaps by locking a wheel. Predicting a lap time accurately using this variable is nigh-on impossible, and is exacerbated on longer circuits.
Unrivalled Accuracy With Position Based Delta-T
We employ GPS position from a fast updating data logger - rather than distance - to align the reference and comparison laps. This means our lap time stays accurate, even if the driver takes a different line each lap. The system will maintain 0.1s precision the entire way around any circuits, including very long circuits such as the Nurburgring or Spa. Position based delta-T is far superior to distance on long tracks.
Display Modes
The OLED Display has different display modes, accessed using the Up and Down buttons. The data on each screen is calculated at all times, even if it is not currently displayed.
Lap Timing

Live Speed

Predictive Lap Timing

The Predictive Lap Timing display (Delta Time) gives you an invaluable insight into how your current lap time compares with your fastest lap time. In addition, the high brightness colour LEDs give an indication of your SPEED relative to your FASTEST LAP.
This video shows how comparing speeds at the same points on the track compared to previous laps (Delta Velocity) can help accelerate the learning process.
Maximum Speed

Lap Count

Display Options
All OLED displays have the option to invert the screen colours for use in different light conditions. For the two bigger OLEDs the font can also be set as a high contrast outline.
Normal

Inverted

Outline