Chapter 4 - Eau Rouge Corner
Video analysis shows how to gain a second through one of the best corners in the world
---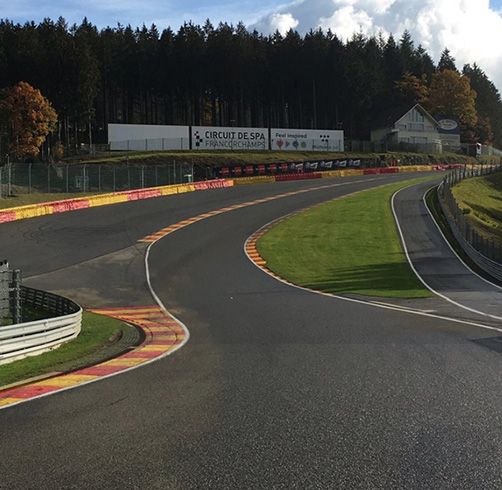 Professional Racing Driver and Coach, Nigel Greensall
As one of the world's most complex fast corners, Eau Rouge is revered by racers. You must take Eau Rouge flat to take advantage of the available down-force and gain speed onto the Kemmel straight.
What many don't realise is that the straight is a kilometre long, with a 70m uphill climb. If you don't get Eau Rouge right you've lost vital time.
For the fourth in our article series discussing circuit driving techniques, we asked racing driver and instructor Nigel Greensall to give us his tips on how he tackles the famous corner to gain the most speed up the straight.
Nigel took some data from a practice run in a FunCup race car, featuring one of his laps and a comparison lap from his team mate Dirk (a very proficient racing driver) in the same car.
We start our discussion from the exit of La Source, and follow the circuit through Eau Rouge and to the end of the Kemmel straight, where Nigel has gained a whole second over his team mate, despite Dirk actually having a faster time in the entrance to the section.
So how did Nigel gain a second on this corner using the same car?
Nigel Greensall: "In the comparison screenshot, you can see that Dirk (in the right hand screenshot with the blue outline) is actually going 3mph faster than me, coming out of La Source with good speed.
He's just 0.2s behind me up to this point.
However in an attempt to set himself up for the upcoming Eau Rouge, he goes too close to the wall on the right, whereas I stay in the middle of the track. I positioned my car in the middle of the track for three reasons:
To lessen the drag effect of the concrete wall – the closer to the wall you drive the more drag you encounter with the air bouncing back at the car and slowing you down
To take advantage of the increased grip between the grid-lines
To gain better visibility (you can see far more of the approaching section from my view at the centre of the track), to help anticipate any incidents
Due to this, in the approach to Eau Rouge my speed has now caught up with Dirk's and I am accelerating quicker, shown by the G-plot in the screenshot below...