Mini Input Module
The Mini Input Module (RLVBMIM01) is a general-purpose input/output module allowing data such as temperature, RPM, wheel speed, fuel flow, throttle angles and pedal forces to be easily measured along with the VBOX GPS data.
The module can accept 8 analogue inputs, 2 digital inputs, an additional digital state input for use as an event marker, and 2 K-type thermocouple inputs.
When used in conjunction with a VBOX Mini, the Mini Input Module can also output one digital and one analogue signal. Connections are via a removable screw terminal.
Features
8 Analogue inputs
(14 bit)

2 K-type thermocouple inputs (32-1875°F)

RPM engine speed input

Wheel speed input

CAN bus interface
Connection Options
The CAN cable between a VBOX Video HD2/ Video VBOX Pro/ Video VBOX Lite can be connected to either the DATA1 or DATA2 socket as they share the same CAN connections.
Two CAN connections are provided to allow the Mini Input Module to be daisy chained with more VBOX input modules. The cable needs to be ordered separately.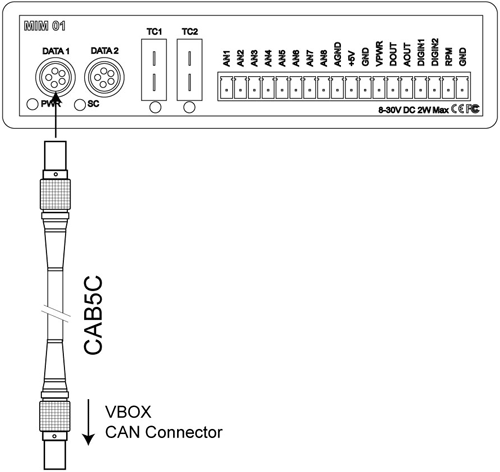 8 x 14-bit Analogue Inputs
1 x Low-Tension RPM Input
1 x Wheel Speed Input with Gain Control
1 x Digital State Input for Event Marker
2 x K-Type Thermocouple Interface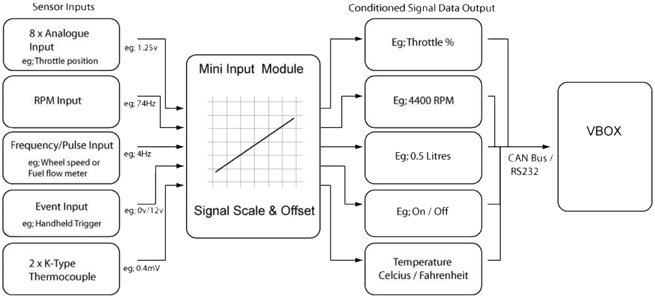 1 x Digital Output
Only available when used with a VBOX Mini
1 x Analogue Output
Only available when used with a VBOX Mini