VBOX LapTimer
Data logger and predictive lap timing display in one. VBOX LapTimer provides instant driver feedback, helping you find valuable improvements in lap times.
Accurate to 100th of a second
Uses position, not distance, for unrivalled accuracy
Compares speed at every part of the circuit
Delta-V LED indicators
Static / rolling lap times and lap counter
Data logging to SD card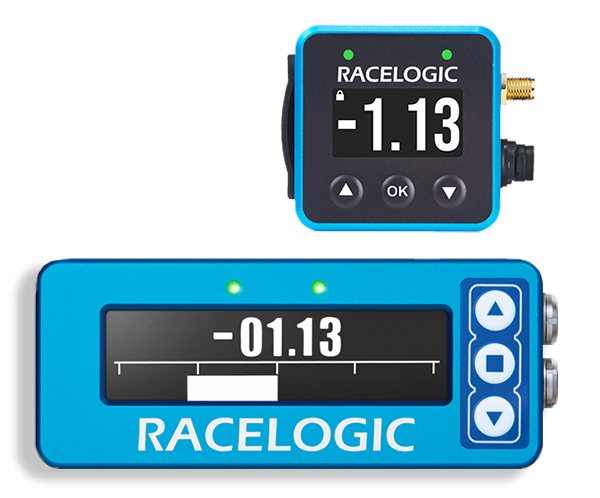 Features

10 Hz Data Logging
Data logging at 10 times per second for later analysis with our intuitive software.

Delta-V LED Indicators
Two high brightness color LEDs give you an indication of your speed relative to your fastest lap.

Mini LapTimer
Update rate: 10 Hz
Velocity accuracy: 0.18 km/h
Position accuracy: 2.5 m (50% CEP)
IP Rating: IP65
Operating Temp: -20 to +70 °C
Power: <1.5 W
Input Voltage: 7 – 30 V DC
Dimensions: 50 x 50 x 26.7 mm
Weight: 103 g (exc. cables)
LapTimer
Update rate: 10 Hz
Velocity accuracy: 0.1 km/h
Position accuracy: 3 m (95% CEP)
IP Rating: IP31
Operating Temp: -20 to +70 °C
Power: 1.5 W
Input Voltage: 7 – 30 V DC
Dimensions: 120 x 50 x 24.5 mm
Weight: 178 g (exc. cables)
Predictive lap timing has been available for some time, but traditional methods have generally relied on a distance measurement (normally from a wheel speed sensor input) for calculation.
However, distances almost always change from lap to lap: either by trying different lines, overtaking other cars, or perhaps by locking a wheel. Predicting a lap time accurately using this variable is nearly impossible, and is exacerbated on longer circuits.
Unrivalled Accuracy With Position Based Delta-T
We employ GPS position from a fast updating data logger - rather than distance - to align the reference and comparison laps. This means our lap time stays accurate, even if the driver takes a different line each lap. The system will maintain 0.1s precision the entire way around any circuits, including very long circuits such as the Nurburgring or Spa.
Position based delta-T is far superior to distance on long tracks.
Display Modes
VBOX LapTimer has different display modes which can be accessed using the UP and DOWN buttons on the front panel. The data on each screen is calculated at all times, even if it is not displayed.
Lap Timing

Live Speed

Predictive Lap Timing

The Predictive Lap Timing display (Delta Time) gives you an invaluable insight into how your current lap time compares with your fastest lap time. In addition, the high brightness color LEDs give an indication of your SPEED relative to your FASTEST LAP.
This video shows how comparing speeds at the same points on the track compared to previous laps (Delta Velocity) can help accelerate the learning process.
Maximum Speed

Lap Count

Speed Bar

Lateral G

Lateral G Bar

Longitudinal G

Longitudinal G Bar

Display Options
VBOX LapTimer has the option to show the font as a high contrast outline or to invert screen colors for use in different light conditions.
Normal

Inverted

Outline

Powerful Analysis Software
Circuit Tools is designed by racing drivers for racing drivers, with none of the complexity normally associated with data analysis software.
The software will automate many tasks and give you all the information required to improve lap times.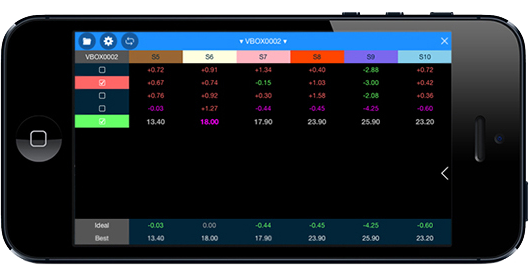 Circuit Tools is now compatible with Windows, macOS and iOS devices.
Would you like to try Circuit Tools at home?
Watch this video and download the accompanying video and data files for replay in Circuit Tools.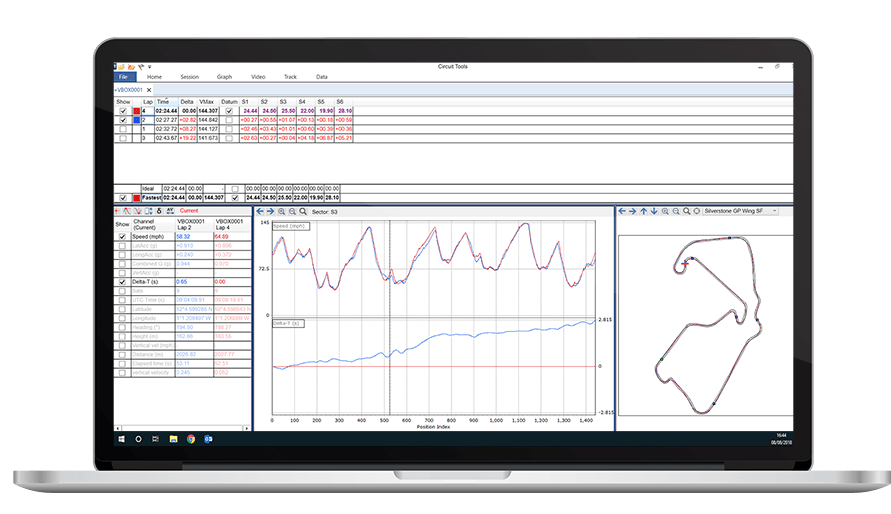 Fastest Lap First
The fastest lap from your latest session is automatically chosen and displayed on the graph window.
You can compare runs from your latest session, or from different days, drivers or sessions simply by importing them and clicking on the relevant lap time shown in the session window.
Data
The data window displays the values of the channels which have been logged at the position of the graph cursor. By default, Speed and Delta-T are displayed.
Track Map Position
A marker shows your position on track as you go through the data.

Delta-Time Trace
Time difference or 'Delta-T' is a very useful channel that shows the lap time difference between two different laps, e.g. your last vs. your fastest lap or your best vs. another drivers lap. Use this to pin-point areas for improvement.
Add-ons and Accessories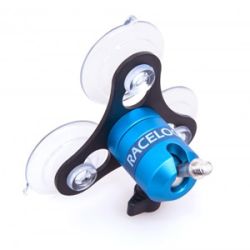 Windscreen Suction Mount
Suction mount with standard thread on the elbow joint.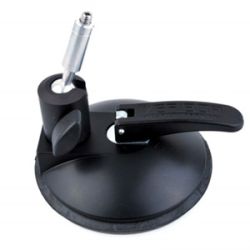 Heavy Duty Suction Mount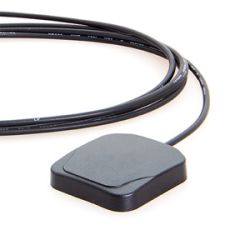 External Patch Antenna
GPS/GLONASS low profile antenna with RG-174 and MCX male connector (2 m cable).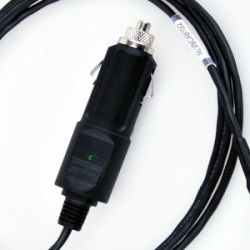 Power Supply
2 m power supply for connection to in-car 12 V auxiliary or cigar lighter socket.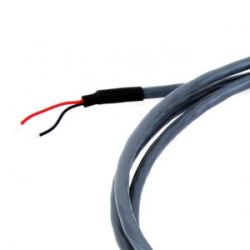 Unterminated Power Supply
For direct connection to a 12 V and GND in the absence of a standard 12 V auxiliary or cigar lighter socket.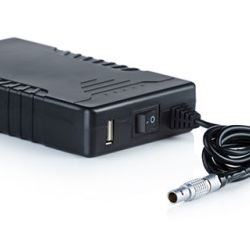 Battery Pack
Useful if you cannot access the auxiliary power supply of your car or motorcycle, or if you want to avoid accidental data loss, which can happen when the unit is power cycled before the data has been transmitted.