Tire performance is critical when you consider that the only contact the car has with the ground is a few square centimeters of rubber. The difference between a good and bad tire setup can be the difference between a podium place and finishing last – or indeed not finishing at all. The whole car configuration distills down to those four small contact areas.
Tire temperature is the most crucial part of the equation as racing rubber is designed to give the highest grip over a certain temperature range. Therefore, to get the best performance, you have to keep them within this operating window.
The traditional way to monitor this is to take a reading from each tire as the car comes into the pits. But temperature measured like this is an average of the entire session and whilst it gives a rough idea, it is not ideal and certainly does not show the whole picture.
The only other feedback available comes from the driver, who will impart information based on their seat-of-the-pants impression of the car's performance whilst at the wheel; only some drivers are good at this, but it is always subjective.
Recognizing the problem, RACELOGIC have introduced a product that gets past the difficulties of tire setup and allows for precise measurement of temperatures, whilst the car is moving.
Infrared sensors, mounted in the proximity of each wheel, measure the temperature across the width of each tire and the information is then recorded and displayed in real-time on the VBOX Touch display.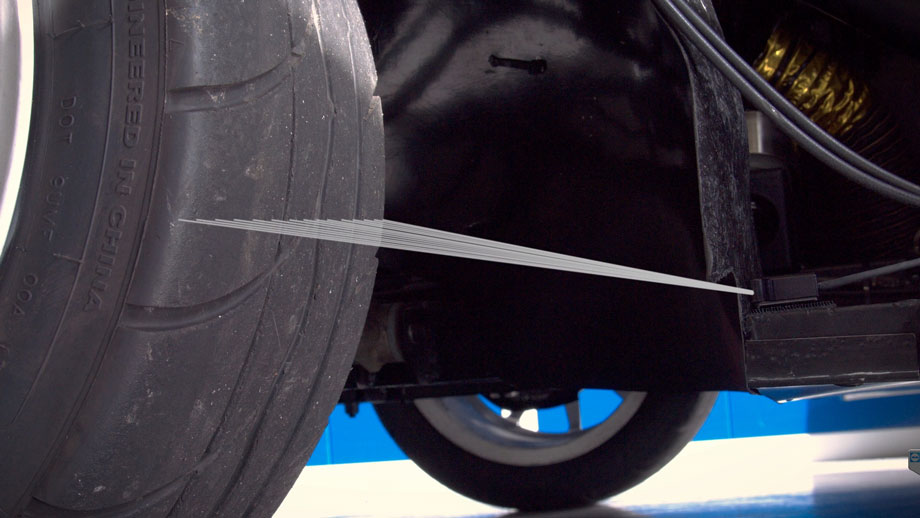 Alternatively, the sensors can be used with a VBOX Video HD2, where the information is recorded and overlaid on the video as a heat map. This makes it possible to understand exactly what is happening to the rubber, at all points of the circuit. As this information is available on the screen/ video, it is extremely easy to interpret and see precisely what is happening.
Until you have seen the data, it is difficult to appreciate how much information you can gain from watching what happens to the surface of the tire as the various loads change during braking, cornering and acceleration.
Take brake bias for instance, this is traditionally adjusted by driver feel and takes a fair amount of experience and car sensitivity. With the fast reacting temperature maps displayed on the screen/ overlaid on the video, you can instantly see which tires heat up first during the braking phase and tweak the front to rear balance to even them out.
As a driver, it is often difficult to work out if you have locked the tires up, but by watching the heat maps, you can spot when it happens, and on which tire. This gives really useful data for setting up the suspension as well as the brakes.